We Are Here Illegally But Our Kids Were Born Here. Are They U.S. Citizens?
Dec. 22, 2021
Children born in the United States are granted all the rights and privileges of U.S. citizenship, regardless of the immigration status of their parents. But can immigrant parents who entered the country illegally obtain citizenship if their children are U.S. citizens?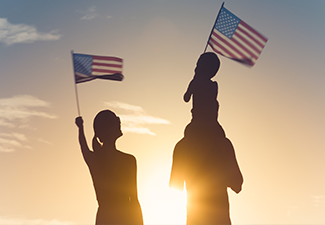 Consider speaking with an experienced immigration attorney to discuss your particular situation and understand your ability to obtain citizenship if you have children born in the United States. At Gurian Group, P.A., I provide confidential legal advice and effective immigration guidance to people in Miami and other communities throughout Florida.
What is U.S. Citizenship?
U.S. citizenship is the status of being a citizen of the United States. Citizenship can be obtained in three ways: birth, parentage, or naturalization. When a child is born in the United States, they are granted all the rights and privileges of U.S. citizenship, including the right to vote and immunity from deportation.
Even children of illegal and undocumented immigrants can become U.S. citizens if they are born in the country. Children obtain U.S. citizenship automatically regardless of their parents' immigration status.
Can a Child's U.S. Citizenship Help Their Parents Immigrate?
Since children of undocumented immigrants become U.S. citizens when they are born in the United States, the child's citizenship could help the parents immigrate. However, doing so is complicated.
Immigration law treats parents of U.S. citizens as "immediate relatives." U.S. citizens, however, cannot petition to help their immediate relatives—including parents—immigrate until they reach the age of 21. If your children were born in the United States but you and your partner/spouse entered the country illegally, consider speaking with an immigration lawyer to discover your options for gaining permanent residency.
If you stay in the United States as an undocumented immigrant after an illegal entry, you could face repercussions, even when your U.S. citizen child turns 21 and petitions for a green card for you.
The Challenges Parents Face When Receiving a Green Card Through a U.S. Citizen Child
There are several challenges that undocumented immigrant parents may face when trying to gain legal status through their U.S. citizen children:
Waiting until the child turns 21 to have them file an immigration petition. Remaining in the country as an undocumented immigrant for so long can be very difficult.

The child who petitions for their parents to live in the U.S. as green card holders must have enough money to be their parents' financial sponsor. According to the U.S. Citizenship and Immigration Services (USCIS), every individual who immigrates based on a relative petition must have a financial sponsor.

Parents who leave the country by the time the child, who has turned 21, files an immigration petition must attend an interview at a U.S. consulate. During the interview, the consular officer must analyze the admissibility of each parent.
If a U.S. citizen child's parents stayed more than 180 days in the United States illegally, their entry could be barred for 3 to 10 years.
Can ICE Deport Parents of U.S. Citizen Children?
While the possibility of being deported as an undocumented immigrant must never be dismissed, parents of U.S. citizen children are less likely to be removed from the country than other immigrants who remain in the country illegally. Authorities use "prosecutorial discretion," which means the U.S. Immigration and Customs Enforcement (ICE) cannot deport every illegal immigrant. Instead, the federal agency focuses on deporting criminals and those who pose a danger to American citizens.
How An Immigration Attorney Can Help
If you have a child who was born in the U.S. or are considering giving birth to a child in the country after your illegal entry, consider speaking with an immigration attorney. As an AV-rated attorney with extensive experience representing undocumented immigrants, I am here to provide the legal guidance you need. Get a case review to understand your options for overcoming immigration challenges.