Understanding LPR Cancellation
June 4, 2021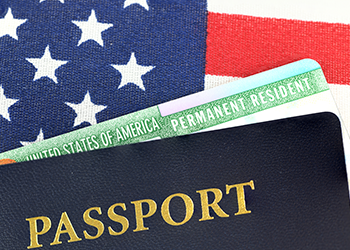 In 2019, more than 1 million immigrants received legal permanent residency (LPR) status in the United States. They joined nearly 13 million others who had received LPR before them.
LPR status is extremely important. It allows you to legally work and reside in the U.S. and also makes you eligible for government employment. Having a green card opens the door to certain health, education, and other benefits. Most of all, LPR status could position you for citizenship.
Cancellation of your LPR status closes the door on all of this and could result in deportation. There are numerous reasons why LPR could be canceled. Regaining LPR status will be a fight, but you do have legal options.
At Gurian Group, P.A., I am dedicated to helping immigrants faced with LPR cancellation in Miami and throughout the state of Florida. I have been an advocate for those seeking a better life in the U.S. for more than 15 years. Reach out to me today to schedule a consultation to discuss your situation.
What is LPR Cancellation
and Why Does it Happen?
The U.S. government can cancel your legal permanent residency or "green card" status if you are found to have committed any of a number of violations. Without LPR status, you are unable to work and live legally in the country, making you deportable.
General reasons for LPR cancellation include:
Violating the conditions of your green card

Commission of an aggravated felony

Commission of fraud, including marriage fraud and immigration fraud

Smuggling other immigrants into the country illegally

Failure to register as a sex offender

Drug abuse or addiction

Commission of acts of treason or sedition

A conviction for domestic violence, stalking, or child abuse, neglect, or abandonment

Violating orders of protection

Failure to notify authorities of a change of address
What is a Cancellation of Removal?
Cancellation of removal is the judicial process by which you can petition the immigration court to cancel the government's intent to remove you from the country and restore your LPR status.
To qualify for cancellation of removal, you must meet the following requirements:
You have had LPR status for at least five years at the time the application for cancellation of removal is filed

You have lived in the U.S. continually for at least seven years after being admitted in any status before the "stop-time rule" is triggered by a notice to appear in court, the commission of certain crimes, or commission of certain security offenses

You have not been convicted of an aggravated felony

You have not received relief before via cancellation of removal or 212(c)

At the court's discretion, you deserve to keep your green card due to other positive actions or qualities
What Happens During an
LPR Cancellation Hearing?
An immigration judge will preside over all cancellation hearings, during which time you will be able to present your case for retaining your green card. If you have an attorney (which is always a wise decision), you will appear with your attorney. If you do not speak English well, interpreters will be available to you during the proceedings.
If the judge finds you qualified to seek cancellation of removal, you will be given an application to complete and return and the judge will then schedule a date for the cancellation hearing. During this time, you will complete the application and gather evidence that supports your case for retaining your LPR status. You will present your evidence and provide testimony at the cancellation hearing.
The judge will usually render a decision at the end of the hearing. If your application is approved and the government's attorney does not wish to appeal the decision, your removal will be canceled that day. If the government's attorney appeals, your application will be forwarded to the Board of Immigration Appeals for a final decision. That process can take up to three months.
If the judge denies your application, you will need to complete additional paperwork to appeal the decision and submit it within 30 days.
The immigration judge will consider the value you bring to this country as well as the extent of any violations alleged by the government. Your value may be based on a number of factors including family relationships, work history, community involvement, and other contributions you make to the United States.
Work with an Experienced Immigration Attorney
The U.S. immigration process is complex and difficult for immigrants and others to understand. An experienced and dedicated immigration attorney can help you:
Verify your eligibility for cancellation of removal

Complete your application and gather supporting documentation

Prepare you for your testimony

Request an appeal of a negative decision

Complete documents pertinent to your appeal
You do not have to go through the cancellation of removal process on your own. In fact, you should not. You should have an immigration attorney to guide you through the process.
At Gurian Group, P.A., I walk every step of the way beside clients in Miami and throughout Florida in their attempts to cancel their removal from the U.S. and retain their LPR status. I know that families, lives, and livelihoods depend on the ability to live and work legally in this country.
If you have been notified that your green card is being canceled, don't wait. Call me at Gurian Group, P.A. now.