Understanding Deferred Action for Childhood Arrivals (DACA)
Dec. 22, 2022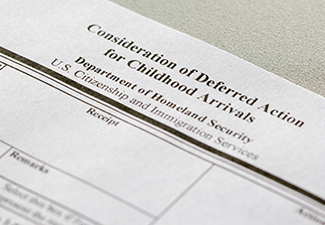 Deferred Action for Childhood Arrivals (DACA) is a federal program that provides administrative relief from deportation to eligible undocumented immigrants. However, there are strict eligibility requirements to get relief from DACA, not to mention the risks involved if you apply for consideration but do not meet eligibility criteria.
DACA could help you in pursuing your goals, which is why you need to be aware of the program's rules and limitations. At Gurian Group, P.A., I help immigrants understand what DACA can and cannot do and determine whether applying for DACA would be the right course of action based on their circumstances. From my office in Miami, Florida, I serve surrounding communities throughout the state.
Understanding DACA
In 2012, the Department of Homeland Security introduced Deferred Action for Childhood Arrivals (DACA) to empower young unauthorized immigrants who are a low priority for enforcement with temporary lawful status. Recipients may apply for work authorization and enjoy a renewable two-year period of deferred action, free from the fear of criminal or immigration repercussions.
DACA recipients must adhere strictly to their deferred action regulations or risk termination of their protection if they leave the country without approval or engage in criminal activity.
Requirements to Request Consideration
To be eligible for DACA protection, applicants must demonstrate that they:
Unlawfully entered the U.S. before their 16th birthday;

Continuously resided in the country since June 15, 2007;

Were under 31 years of age as of June 15, 2012;

Were physically present in the United States as of June 15, 2012, and at the time of application;

They finished high school education or GED program completions or received an honorable discharge from the armed forces; and

Were living in the U.S. without lawful status but with a clean record free from felony convictions or other criminal misdemeanors posing any threat to national security/public safety offenses.
While DACA offers temporary protection from deportation, permission to work, and other benefits, the program is not without its risks and pitfalls. If you request consideration but do not meet eligibility requirements, you may expose yourself to removal proceedings (the opposite of what you are looking for).
That is why you may want to consult with a knowledgeable immigration attorney to determine whether you meet the eligibility to request DACA consideration.
The DACA Process
For anyone considering applying for DACA, the step-by-step process will usually look like this:
Understand DACA's eligibility requirements. Before submitting your documents to USCIS, make sure that you meet the eligibility requirements for DACA. If you are not eligible for DACA protections, applying for consideration could result in you being placed into removal proceedings.
Gather documents for your DACA application. Once you are certain that you meet DACA's eligibility requirements, you need to start gathering the necessary documents that prove your eligibility. These documents may include your utility bills, passport, high school diploma, and school records, among others.
Fill out the necessary forms. Contact an experienced immigration attorney to assist you with filling out the necessary forms to apply for DACA protections. The attorney will help you fill out each form carefully and accurately to avoid mistakes.
Submit your forms and documents to USCIS. When submitting the forms and documents, make sure that you pay the application fee. According to USCIS, the filing fee to apply for DACA is $495.
Attend the biometrics appointment. Once the forms and documents have been submitted, wait for a response from the federal government. Authorities may request additional evidence or schedule a biometrics appointment.
If your current DACA is set to expire in the foreseeable future, you need to take action to renew the application. A request for renewal should be made at least 120 days before your current DACA expires. The process of seeking DACA protections can be complicated, which is why you may need to seek guidance from an immigration attorney.
Trusted Legal Representation
The details surrounding Deferred Action for Childhood Arrivals (DACA) applications are nuanced while the laws are constantly changing. That is why it is critical to seek the assistance of a skilled immigration attorney to discuss your particular circumstances. As an immigration attorney at Gurian Group, P.A., I provide trusted legal representation to immigrants who consider applying for DACA for the first time or want to renew their DACA requests. Contact my office today to schedule a consultation.