Tips for Your Immigration Marriage Interview
Sept. 29, 2021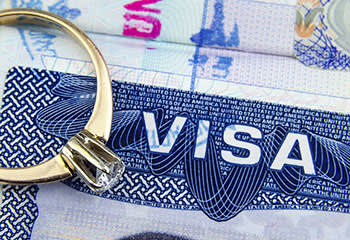 According to the American Immigration Council, one out of every five residents in Florida is foreign-born, comprising 21% of the state's total population. As of 2018, 2.5 million immigrants had been naturalized. In Miami, 58.30% of all residents are foreign-born, most of them hailing from the Caribbean and Latin America.
One of the ways for the foreign-born immigrant to become naturalized is by marrying a citizen of the United States, and statistics show that 2.7 million residents — 13% of Florida's population — have at least one immigrant parent.
To gain U.S. citizenship through marriage is no slam dunk. You have to go through an interview — almost an interrogation — in which one spouse may be pitted against the other in a "gotcha" process.
If you're an immigrant in the Miami, Florida area, or in surrounding communities, facing an interview by U.S. Citizenship and Immigration Services (USCIS) officials about your marriage, contact me at the Gurian Group, P.A.
As an experienced immigration attorney, I am ready to help prepare you for the interview process and answer your questions about what to expect. I will also help you assemble the documents you need to move your case forward.
What to Expect at an
Immigrant Marriage Interview
Marriage fraud is high on the USCIS list of immigration deceit. As a result, USCIS agents take every application for residency based on marriage as a serious matter.
If you're living abroad and claiming marriage to a U.S. citizen as the basis for your status as a lawful permanent resident (LPR) with a green card, you will go through what is called "consular processing" at a U.S. consulate. Your spouse may not be present, but if your interview raises questions, the consulate may request that your U.S.-based spouse be interviewed by the USCIS back home.
If both of you are in the U.S., there will likely be a joint interview to conclude the process known as "adjustment of status." You will need to submit documentation proving your marriage and then be questioned to see if It was just a sham wedding so the foreign national can gain legal residency — kind of like "marriage for hire."
During the joint interview, if the USCIS agents suspect duplicity — one person says one thing, the other says another thing — they may decide to interview each spouse separately. This is known as a fraud interview. If one spouse in the separate interviews says the husband wore a tuxedo at the wedding, and the other says a business suit, there could be serious consequences — or at least further grilling.
Even in a joint interview, there is no one specific set of questions an agent may ask. The agents all have their individual preferences for ferreting out any fraud. Common questions might include:
Where did you two meet?

What color are the curtains in your bedroom?

How many people were at your wedding?

What drinks were served at your wedding?

Who does the cooking in the household?

Who pays the bills?

When is your spouse's birthday?

What did you give your spouse for their last birthday?

Who cleans the residence?

Where do you go shopping?

What time does your spouse arrive home from work?
The questions can be endless, but if the two of you are in concurrence, there should be no problem.
How to Approach the Interview
The best approach is to provide supporting documentation, including things like marriage certificates, lease or mortgage bills in joint names, wedding photos, joint credit card bills, birth certificates for your children, even letters or text messages you've sent to one another.
Confidence and calm in face of the questioning also go a long way toward showing legitimacy. If you're nervous or hesitant in answering questions, that can be a red flag. Practice ahead of time for any question you feel the agents may ask. You can use your attorney to help prepare you for the types of questions that may be asked.
You certainly want to be sure that the two of you are on the same page when it comes to answers. If your first date was at a restaurant in the foreign national's home country, be sure to have the name, the ambiance, and the food you enjoyed on your first date to be consistent.
Get the Legal Guidance You Need
When facing an immigration interview, you need to know the ground rules, prepare the needed documentation, and practice answering USCIS agents' questions. The agents may try to get you two to offer contradictory answers to show that there may be fraud going on. Just be honest, but be thoroughly prepared as well.
If you're facing a marriage interview to obtain lawful permanent residency in or around the greater Miami, Florida area, contact me at Gurian Group, P.A. I have helped countless others fight for their rights as immigrants, and I am ready to help you too. You can rely on me for all your immigration and naturalization issues.