Should Green Card Holders Travel Outside of the U.S. With a Conviction?
Oct. 7, 2021
Miami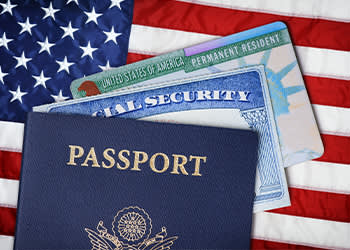 -Dade County is home to more than 1.5 million immigrants. How many of them are green card holders with lawful permanent resident (LPR) status is hard to determine, but according to the Department of Homeland Security, in 2018, there were 1,230,000 foreign nationals with LPR status in Florida.
Those with green cards may wish to leave the country to visit relatives back home or take care of personal matters. Though you are free by U.S. law to travel abroad with a green card, your re-entry may not be guaranteed, especially if you've been convicted of a crime.
If you find yourself in that situation – LPR status wishing to travel abroad but unsure if you can re-enter – contact me at the Gurian Group, P.A. I proudly serve the immigrant community in Miami, Florida, and all neighboring communities.
Traveling Abroad With a Green Card – and a Conviction
If you have a criminal record either in the U.S. or in a foreign country, you can be considered inadmissible to the U.S.
Even if you have a green card and have served out your sentence and probation and have not been deported, you can still be denied re-entry into the U.S. if you travel abroad. This is because the list of crimes that bar admission is longer than those that lead to removal proceedings. Even if your crime has been expunged from your public record, immigration officials can still access it and deny you admission.
If you do travel abroad, upon return – if you're allowed re-entry – you could be ordered to removal proceedings if your conviction is for a crime that justifies deportation.
It's extremely important to consult with an immigration attorney before leaving the U.S. if you have a conviction on your record. I will be happy to discuss your situation with you and advise you on the best course of action.
Reasons for Being Denied Re-Entry
The Immigration and Nationality Act (INA) lists several grounds for inadmissibility to the U.S. Section 212(a)(2) names crimes that are reasons for inadmissibility, including a crime of moral turpitude (CMT), drug crime or drug trafficking, prostitution, multiple crimes, money laundering, and security violations, among others.
Crimes of moral turpitude are not clearly defined, but the U.S. Department of State has issued guidance saying they include "fraud, larceny, and intent to harm persons or things."
Other reasons you may be denied re-entry include:
You've been gone for 180 days or more.

You've abandoned your permanent resident status (meaning you've been gone for more than a year).

You committed a crime or did something illegal while abroad.

You left the U.S. while in removal proceedings.

You attempt to reenter at a place other than an official port of entry.
If you know you're going to be gone for a long period, perhaps 180 days or more, you can apply for a re-entry permit with the United States Citizenship and Immigration Services (USCIS).
Obtaining a Waiver for Traveling
Section 212(h) of the INA provides for the issuance of waivers for crimes of moral turpitude and other offenses, but there are strict requirements to obtain one.
First, you must not have committed murder, torture, or an aggravated felony. You must then show that the crime that makes you inadmissible occurred more than 15 years ago and that you have been rehabilitated. You also must not pose a threat to the national welfare, safety, or security of the U.S.
If you can't qualify under those standards, then you can claim being denied readmission would pose an "extreme hardship" to your spouse, parent, son, or daughter, provided they are either green card holders or U.S. citizens.
Don't Risk Your Future.
Get Experienced Legal Guidance.
If you have a conviction on your record and need to travel abroad, seek me out. I will assess your situation and advise you of the best course of action, whether it be applying for a 212(h) waiver or changing your plans. You don't want to leave and then come back only to be denied re-entry or assigned a removal hearing.
The Gurian Group, P.A. serves the immigrant community in and around Miami. I have helped countless others fight for their rights as immigrants, and I will help you, too.