Naturalization Tips for Immigrants
Nov. 30, 2021
Becoming a U.S. citizen remains a crucial milestone in the life of any immigrant residing in the country. As a citizen of the United States, you can travel with a U.S. passport, bring family members to the country, serve on a jury, vote in the U.S. elections, and receive all citizenship rights.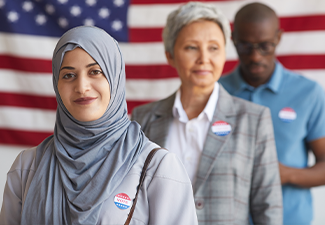 Many lawful permanent residents — green card holders — are eligible to become U.S. citizens through naturalization but need proper guidance on how to proceed. An experienced Florida naturalization attorney can provide you with the adequate support and detailed counsel you need to take crucial steps toward becoming a U.S. citizen.
At Gurian Group, P.A., I have devoted my career to offering outstanding legal services and guiding clients in naturalization-related matters. I'm available to discuss your situation, help you understand the naturalization process, and educate you about the best practices to ensure a smooth and successful application. My firm is proud to serve individuals and families in Miami and surrounding communities throughout Florida.
Tips for Your Naturalization Application
If you're a U.S. resident who is considering applying for citizenship through naturalization, here are some tips to help with your application.
File As Soon As You Are Eligible
To become a U.S. citizen, you must have been a green card holder for at least five years or for at least three years if you're filing as the spouse of a U.S. citizen. As soon as you are eligible, file your application for naturalization. The U.S. Citizenship and Immigration Services (USCIS) is usually behind schedule, and some applications can take up to three years to process.
Be On Time to Meetings
Punctuality is absolutely important when applying for naturalization. Ensure that you arrive on time to every appointment or meeting with the USCIS, U.S. embassy, consulate, or immigration court. Being late can result in delays to your naturalization application processing, so make sure you avoid delays at all costs.
Bring All Required Documents
When attending scheduled meetings, the personal interview, or other appointments with the USCIS, ensure that you take all of the necessary documents. Here are some of the things that you will need:
N-400 application form

Copy of your green card (front and back)

Two passport photos

The filing fee

Criminal history certified by the court

If you owe child support, proof of payment

Proof of travel (copy of your passport)

If you owe money to the IRS, proof that you've been making payments, and proof of a payment plan

If applying based on marriage after three years, proof that you are still living with your U.S. citizen spouse
Every application is unique, however. Depending on your circumstance, the USCIS may ask for additional documentation.
Don't Violate Immigration Visa, Work Permit, or Green Card Laws
Learn all immigration visa, work permit, or green card requirements and laws, and adhere to them strictly. If you violate any law, the consequences may be devastating, including possible deportation or canceling your immigration visa.
Prepare for Your Interview
The naturalization interview is the final obstacle in your citizenship application. During the naturalization interview, a USCIS officer will test your English skills and your knowledge and understanding of U.S. history and government. To ensure a successful interview, it is important that you prepare diligently. An experienced attorney can help you prepare for your personal interview and improve your chances of obtaining a favorable outcome.
Work with an Experienced Attorney
Becoming a U.S. citizen through naturalization involves complicated procedures. Understanding the procedural requirement, determining your eligibility, completing the necessary forms, and preparing for the test and personal interview can make the entire process seem daunting. It is important that you hire an experienced immigration attorney for detailed guidance to navigate key decisions.
At Gurian Group, P.A., I am dedicated to providing knowledgeable legal guidance to clients navigating the complexities of citizenship and naturalization. As your legal counsel, I can educate you about the benefits of becoming a U.S. citizen and help you understand the naturalization process. I will prepare a solid application on your behalf, help you complete and submit your forms, and prepare you for the test and interview. I will guide you through every step involved in the citizenship application process and work to make sure that the system treats you fairly.
Contact my firm — Gurian Group, P.A. — today to schedule a one-on-one case assessment with an experienced naturalization attorney. I can offer you the detailed guidance and brilliant advocacy you need when applying for U.S. citizenship. My firm proudly serves clients in Miami and surrounding communities throughout Florida.