How Much Money Do I Need to Make to
Petition for My Spouse?
July 27, 2022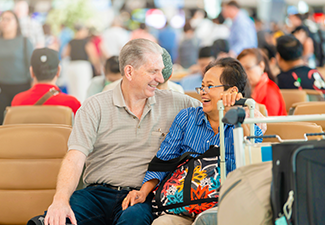 If you're living in the United States as a citizen or a lawful permanent resident (LPR) with a green card and you have a spouse who resides overseas, there are procedures for bringing your spouse here and providing lawful permanent resident status when they arrive.
The United States Citizenship and Immigration Services (USCIS) is the starting point for filing applications. Both the sponsoring stateside spouse and the overseas spouse will be required to submit various forms.
In simplified terms, the stateside spouse will have to file a petition for the foreign spouse to be approved for arrival. The overseas spouse will have to file for an immigration visa once the petition is approved.
If you're near Miami, Florida, and have an overseas spouse you'd like to bring stateside to be with you, contact me at the Gurian Group, P.A. for legal help. I am experienced in all areas of immigration law and dedicated to advocating for the rights of immigrants. I will help you navigate the USCIS hurdles to facilitate getting your spouse to be at your side.
Eligibility to Sponsor a Spouse or Child:
Your Income
You are qualified to sponsor an overseas spouse for arrival and lawful status in the United States if you are a U.S. citizen. Immigrants with lawful permanent resident (LPR) status can also sponsor overseas family members, but they might face a waiting list, whereas U.S. citizens won't. In addition to your spouse, you can also sponsor any minor children, those under the age of 21.
If you file an immigrant petition for your relative, you become that person's sponsor. To file the petition, you must be 18 years old, a citizen or green card holder, and live in the United States.
You will need to show that you have the financial resources to sponsor the arriving spouse and/or children. Unless you can show that you have 40 qualifying quarters of work as defined in Title II of the Social Security Act, you will have to submit an affidavit of support before the spouse or children arrive.
To file an affidavit of support, you must show that your income exceeds 125 percent of the U.S. poverty level for a household of your size. If your income falls short, you may be able to add cash savings, stocks, other investments, and real property owned to make up the shortfall.
You can also seek a joint sponsor. A joint sponsor is someone who is willing to accept responsibility for sponsoring your family member with you. The joint sponsor has the same income qualifying standards as you. Note, however, that you cannot combine your income and assets with those of the joint sponsor. The joint sponsor must qualify on their own.
If you die before the visa petition is approved for your family member, a substitute sponsor can step in to continue the process, but a substitute must be related to the arriving immigrant, even if only an in-law. The same income qualifications still apply.
How to File to Begin the Process
If you're a U.S. citizen, you must file Form I-130, Petition for Alien Relative, with USCIS, either online or by mail. The approval process can take anywhere from 5 to 14.5 months. After USCIS approves the petition, the immigrant spouse can submit a visa application and supporting documents to the National Visa Center (NVC). NVC will then notify the U.S. consulate closest to your spouse to schedule an interview. The visa process can take an additional 6 to 11 months.
If you are a permanent resident, the process is basically the same, but the approval periods are generally longer – 5 to 30 months for the petition and 5 to 10 months thereafter for the visa. Also, visas for those being sponsored by lawful permanent residents are subject to a quota system, so the State Department may not actually issue the visa until a spot becomes open.
Rely on Knowledgeable Legal Advice
As you can see, the process of sponsoring a spouse or family member can represent a long administrative journey. Before you begin filing, check with me at my firm, the Gurian Group, P.A. I have first-hand experience dealing with the USCIS, and I can help you prepare the petition and provide other documentation USCIS may request.
If you're near Miami, Florida, and wish to be reunited on U.S. soil with your overseas spouse and/or children, contact me immediately. I'll provide you with personalized, compassionate service and stand by your side throughout the process.