Criminal Records & Residency or Citizenship Applications
June 28, 2022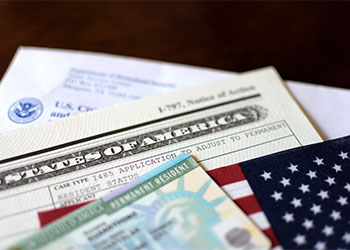 For an immigrant living in the United States and considering applying for U.S. citizenship, having a "good moral character" is an important requirement for a successful application. Unfortunately, a criminal arrest or conviction can make you "inadmissible" and potentially jeopardize your eligibility for a green card or U.S. citizenship. Thankfully, you may be able to seek legal forgiveness and obtain a green card by requesting the U.S. government to overlook your criminal records with a waiver of inadmissibility.
At Gurian Group, P.A., I'm poised and ready to assist and guide clients with criminal records/history through the complexities of their residency or citizenship application. As a skilled Florida immigration law attorney, I can evaluate every surrounding fact of your unique situation and explore your available legal options to obtain a green card or become a U.S. citizen. My firm proudly serves clients across Miami and surrounding communities throughout Florida.
Crimes that Can Lead to Deportation
In the United States, being convicted of certain crimes can lead to possible deportation or immigration consequences for someone who isn't a U.S. citizen. Here are some common deportable offenses:
Drug conviction

Aggravated felonies such as rape, murder, theft, and child pornography.

Firearms conviction

Crime of moral turpitude

Crime of domestic violence, including domestic abuse, child abuse, abandonment, neglect, or stalking

Other criminal activities – such as treason, espionage, or sabotage.
Depending on the surrounding circumstances, some of these offenses can make the defendant "inadmissible" to the United States. Conversely, having good moral conduct can improve your chances of a successful residency or citizenship application.
Understanding "Good Moral Character" (GMC) for Residency
As mentioned earlier, having "good moral character" (GMC) is one of the major requirements to obtain a green card or become a U.S. citizen through naturalization. In your application, you must show that you've been, and will continue being, someone of good moral character for at least the five years of permanent residency leading to your citizenship application.
Here are some essential qualities of someone who is of "good moral character":
You are honest and respectable.

You abide by the rules and regulations of local, state, and federal laws.

You have been a responsible member of your family, workplace, and community.

You're not a habitual drunkard.

You have not committed any crime.
For your application to be successful, you must meet the residency or citizenship requirements, have no prior conviction, and have maintained good conduct in the statutory period (three or five years) leading to your application.
What is a Conviction?
With respect to immigration, a conviction can be described as a formal judgment of guilt entered by a court. A conviction for immigration purposes also exists when:
The defendant entered a guilty plea.

The judge imposed a restraint or limitations on the person's freedom.

A jury or judge has found the person guilty.

The judge has ordered some form of penalty or punishment.
What is Moral Turpitude?
Moral turpitude is a behavior or act which is considered immoral, unethical, or unjust and violates the accepted standards within the society. A crime of moral turpitude is an offense that a person commits with evil intent, recklessly, or with some form of guilty knowledge.
Furthermore, a crime of moral turpitude may be against a person, government authority, property, or sexual-related crimes. Admitting to or having a prior conviction for a crime of moral turpitude on your record can have an adverse impact on your green card or citizenship application.
Effect on Green Card Applications
Unfortunately, having a criminal history, arrest, or conviction may affect your green card application in the following ways:
When Applicant Has a Criminal Record
The USCIS conducts thorough criminal background checks on every green card applicant. Criminal convictions such as drug convictions, aggravated felonies, or crimes of moral turpitude may cause your green card application to be denied.
When Sponsor Has a Criminal Record
For the majority of family-based green card applications, the spouse, parent, or child applying will need a sponsor. Only U.S. citizens and LPRs are allowed to sponsor a green card applicant. Convictions that involve crimes against minors, such as child kidnapping, statutory rape, or child pornography, can disqualify you from sponsoring another person's green card application.
Waiver of Inadmissibility
Thankfully, you may be eligible to request a waiver of inadmissibility for some convictions and crimes of moral turpitude in your residency or citizenship application process. Seeking a waiver on the grounds of inadmissibility means you are requesting that the immigration authorities make an exception for you. A knowledgeable Florida waivers attorney can help file your application and walk you through every step of the entire process.
How Legal Counsel Can Help
Unfortunately, your criminal record can pose various challenges when applying for residency or U.S. citizenship. Notwithstanding the severity of the offense, the USCIS may use your criminal history to determine that you didn't exhibit the good moral character needed for U.S. citizenship. Therefore, when applying for a green card or citizenship with a criminal record, retaining a highly-skilled immigration lawyer is paramount to defend your legal rights and help navigate crucial decisions.
At Gurian Group, P.A., I am committed to offering comprehensive legal guidance, advocacy, and reliable representation to clients in immigration-related matters, including residency and citizenship applications. As your legal counsel, I can review all of the details of your case thoroughly and enlighten you about your possible legal options to apply for U.S. citizenship. Additionally, I can determine your eligibility for a waiver of inadmissibility, help complete your forms and documentation, and prepare the necessary legal paperwork. Having me on your side can increase your prospects of getting the most favorable outcome in your residency or citizenship application.
Contact my firm – Gurian Group, P.A. – today to schedule a simple case evaluation with a trusted immigration attorney. I can offer you the dedicated representation, assistance, and knowledgeable legal counsel you need in your application. My firm proudly serves clients across Miami and surrounding communities throughout Florida.