Appealing a Naturalization Denial
April 5, 2021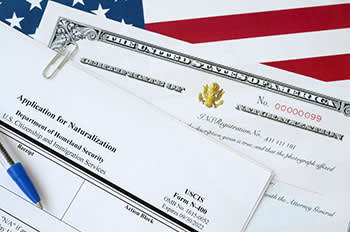 Every year, nearly 860,000 green cardholders in the United States apply for citizenship by naturalization. Of these, only approximately 23% are approved by the United States Citizenship and Immigration Service (USCIS). About 2% to 3% are denied, while the remaining 74% are left pending. If your naturalization application was denied, you have the right to appeal the denial.
At Gurian Group, P.A., I am dedicated to providing comprehensive guidance and advocacy to people in matters related to citizenship and naturalization. I'm available to discuss your circumstances, investigate why your citizenship application was denied, and explore your available legal options to appeal the denial. As an experienced Florida immigration law attorney, I can fight to protect your rights, seek to get the denial overturned, and work to get your naturalization status granted. My firm proudly serves clients in Miami and surrounding areas throughout Florida.
Common Reasons for Denial
Naturalization is the process through which a non-U.S. citizen or immigrant becomes a U.S. citizen. There are several complicated processes in filing Form N-400 (Application for Naturalization) that make denials quite common. Some common reasons for a naturalization application denial include:
Failing the English test

Failing the U.S. History and Government test

Failure to pay your taxes

Having a criminal history

Failure to meet physical presence and continuous residence requirements

Deliberate failure to support dependents

Lying to USCIS or being involved in fraud

Failing to register for selective service

Having a pending divorce application
Receiving a Denial
If the USCIS denies your citizenship application, it must be done within 120 days of the initial interview. The USCIS must also serve you with a written notice stating specific reasons why your naturalization application was denied.
If your application was denied for failing the English or civics tests, you may be eligible to retake both tests. The written notice will inform you that you have the right to:
Accept the denial, or

Request a hearing in front of an immigration officer
The Appeal Process
As mentioned earlier, you have the right to request a hearing before an immigration officer. Here are the steps involved in the appeal process:
File Form N-366: Your attorney will file Form N-366 (Request for a Hearing on a Decision in Naturalization) on your behalf and you will pay the filing fee.

Submit Form G-28: Upon filing, your attorney must submit Form G-28 (Notice of Entry of Appearance as Attorney or Accredited Representative).

Schedule A Review Hearing: The USCIS will schedule a review hearing within 180 days after receiving your request.

De Novo Review: An immigration officer, different from the one who conducted the initial review, will conduct a "de novo" review (new and full review) of your naturalization application.

Attend an Appeal Hearing: During the appeal hearing, your attorney may put forward any new evidence relevant to your naturalization application. Additional evidence, including written statements and briefs, may be submitted during the appeal hearing to convince the judge to overturn the previous denial.
Alternatives to Appeal
If you do not intend to appeal your naturalization application denial, there are other options. Some alternatives to appeal include:
Filing a new naturalization application

Filing a motion to reopen

Filing a motion to reconsider
Get Help from an Experienced Immigration Attorney
Having your naturalization application denied can be a difficult experience, but you don't have to lose hope. An experienced Florida naturalization attorney can help you understand your options and determine the best course of action.
At Gurian Group, P.A., I have devoted my career to fighting for and protecting the rights of individuals whose citizenship applications were denied. As your legal counsel, I can evaluate your situation, determine whether to appeal the denial, or explore your other alternatives. I can help you file your appeal forms and represent you during the hearing.
Using my extensive knowledge, I will develop a solid argument for your naturalization and attempt to convince the judge to overturn the denial. I will continue fighting on your behalf to attempt to get your citizenship application granted. Having me on your side can make a difference in your denial of naturalization appeal.
If your citizenship application was denied and you want to discuss your options, contact my firm — Gurian Group, P.A. — today to schedule a one-on-one consultation with an experienced immigration attorney. I'm proud to serve clients in Miami, Florida, and the surrounding communities.